RSTP Course: Navigating Private Sponsorship for Settlement Workers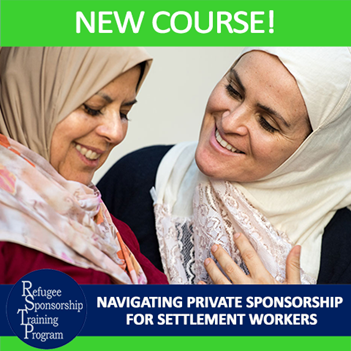 This course is intended for settlement workers and other settlement service providers who work with privately sponsored refugees and their sponsors.
The goals of this course are:
Provide you with essential information about private sponsorship of refugees in general, and to 
Assist you to navigate the unique relationships between settlement workers, privately sponsored newcomers, and their sponsors.
Through this course, you will:
Learn about the private sponsorship program in Canada, and 
Gain a deeper understanding of how integral your role is in supporting successful refugee sponsorships.
This course consists of five modules. Each module contains essential readings presented in several chapters, a quiz ranging from 5-10 questions, and a discussion forum. The modules also include a list of additional resources that you may wish to review.
The course modules are as follows:
Overview of the Private Sponsorship of Refugees
The Role of Sponsors (includes sponsor responsibilities)
Rights, Responsibilities, and Expectations of Privately Sponsored Newcomers
IRCC Program Assurance
The Role of Settlement Workers in Private Sponsorships
This is a self-study course, which means that you can go through the course materials at your own pace at a time that works for you. However, you must complete all readings, quizzes, and the final exam within 6 weeks of enrolling in the course. For an enhanced learning experience, there are also weekly online discussion forums and video chat sessions where you can interact with the other students and the course facilitator,
Note: If you do not have an RSTP user account you will be prompted to first create one in order to register for the course.
Related Events